Books
These are some of our special/dearer/nicer books. The list is mainly for the benefit of customers who visit the shop however we occasionally post books out. If you plan to visit especially to see one of these books it may be worth getting in touch first to check that we still have it - and can find it!
Feel free to offer a lower price for the dearer books if you think they've been listed for a while and we'll see how that goes!
---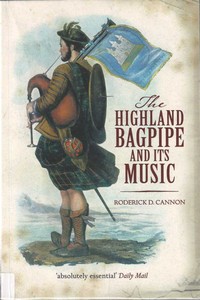 The Highland Bagpipe and its Music
(£10.00)
Roderick D. Cannon
Birlinn
,
2008
Paperback
, ISBN: 9781841586663
Comments: Ex-lib with first page torn out. I think the date is correct.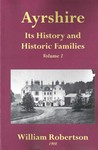 Ayrshire: Its History and Historic Families Volume 1
(£19.00)
William Robertson
The Grimsay Press
,
2005
Paperback
, ISBN: 1845300254
Comments: Reprint of 1908 edition.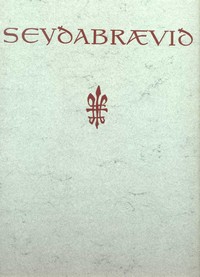 Seydabraevid
(£80.00)
Hardback
Comments: Faroese Sheep Letter. Large size (folio?). Introduction in English. Parallel old Norse, Faroese and English. Please ask if you want further attempts at details. Don't just turn up, we probably won't be able to find it!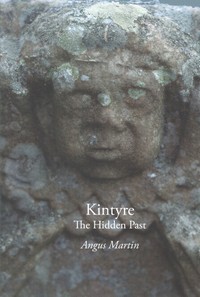 Kintyre: The Hidden Past
(£10.00)
Angus Martin
The Grimsay Press
,
2014
Paperback
, ISBN: 9781845301507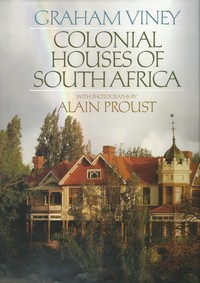 Colonial Houses of South Africa
(£20.00)
Graham Viney
Struik-Winchester
,
1987
Hardback
, ISBN: 9780947430054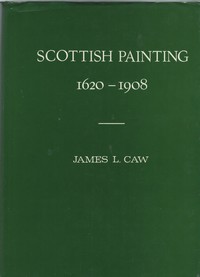 Scottish Painting 1620 - 1908
(£10.00)
James L. Caw
Kingsmead Reprints
,
1975
Hardback
, ISBN: 0901571717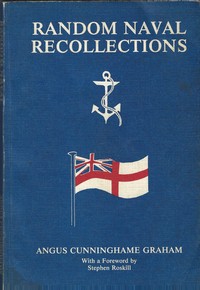 Random Naval Recollections
(£10.00)
Angus Cunninghame Graham
Paperback
Comments: Worn condition. Signed by the author. Self published.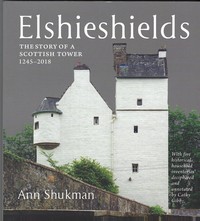 Elshieshields: The Story of a Scottish Tower 1245-2018
(£15.00)
Ann Shukman
Ann Shukman
,
2018
Paperback
, ISBN: 9781527219298
Comments: Brand new book.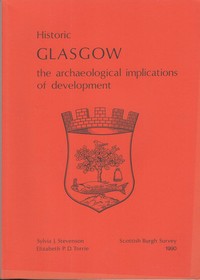 Historic Glasgow: the archaeological implications of development
(£8.00)
Sylvia J. Stevenson & Elizabeth P.D. Torrie
Scottish Burgh Survey
,
1990
Paperback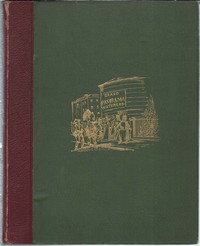 The Story of the Making of Buchanan Street
(£15.00)
Daniel Frazier
James Frazer
,
1885
Hardback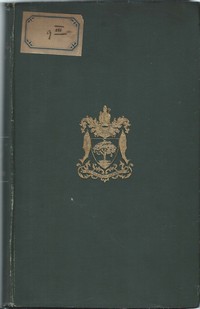 Municipal Glasgow: Its Evolution and Enterprises
(£25.00)
Anon
Corporation of the City of Glasgow
,
1914
Hardback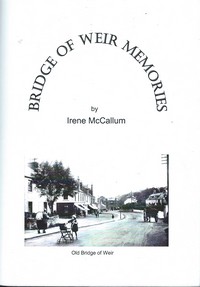 Bridge of Weir Memories
(£5.00)
Irene McCallum
Privately Published
,
2020
Paperback
---
Jump to:    Glasgow   History   Literary   Miscellaneous   Renfrewshire   Scottish   Book Sets 
        
---
Bridge of Weir Memories

(£5.00)

Irene McCallum

Privately Published

,

2020

Paperback




Paisley Patterns - A Design Source Book

(£10.00)

Valerie Reilly

Studio House

,

1989

Hardback

, ISBN: 9781851703067




Chronicles of the Stickleback Club - Annals of the Countryside Round paisley

(£10.00)

Alexander M. Stewart

Alexander Gardner

,

1930

Hardback




The Illustrated History of the Paisley Shawl

(£15.00)

Valerie Reilly

Renfrew District Council

,

1996

Hardback

, ISBN: 0861220269




Further Selections from the Judicial Records of Renfrewshire

(£15.00)

William Hector

Heritage Books

,

1999

Paperback

, ISBN: 0788413279

Comments: Facsimile of 1876 book.




The Paisley Pattern: The Official Illustrated History

(£8.00)

Valerie Reilly

Richard Drew

,

1987

Hardback

, ISBN: 0862671930




Golf on the Land of Wallace: The First Hundred Years of Elderslie Golf Club

(£10.00)

David Bryden

Hardback




Three Score Years and Ten: The Story of Sherwwod Church Paisley 1891-1961

(£10.00)

Paperback

Comments: Appears undated.




Paisley - A History

(£10.00)

Sylvia Clark

Mainstream Publishing

,

1988

Paperback

, ISBN: 9781851581108



---
Clyde Passenger Steamers 1812 - 1901

(£10.00)

Capt James Williamson

James MacLehose

,

1904

Hardback




Glasgow the Forming of the City

(£15.00)

Peter Reed (ed.)

Edinburgh University Press

,

1999

Paperback

, ISBN: 9780748612000




Clyde River Steamers of the Last Fifty Years

(£6.00)

Andrew McQueen

Gowans and Gray

,

1923

Hardback




Municipal Glasgow: Its Evolution and Enterprises

(£25.00)

Anon

Corporation of the City of Glasgow

,

1914

Hardback




Exploring Glasgow: The Architectural Guide

(£10.00)

Robin Ward

Birlinn

,

2017

Paperback

, ISBN: 9781780274546




Post Office Glasgow Directory 1968-69

(£10.00)

Hardback




Glasgow Dean of Guild Court : A History

(£25.00)

Andrew M. Jackson

Hardback

, ISBN: 0950876704




The Story of the Making of Buchanan Street

(£15.00)

Daniel Frazier

James Frazer

,

1885

Hardback



---
A History of the Scottish Miners

(£10.00)

R. Page Arnot

George Allen & Unwin

,

1955

Hardback




Random Naval Recollections

(£10.00)

Angus Cunninghame Graham

Paperback

Comments: Worn condition. Signed by the author. Self published.




A Third Summer in Kintyre

(£10.00)

Angus Martin

The Grimsay Press

,

2016

Paperback

, ISBN: 9781845301583




Reminscences of a Highland Parish

(£10.00)

Norman Macleod

Charles Burnet & Co.

,

1891

Hardback




A Topographical Dictionary of Scotland Volume I

(£12.00)

Samuel Lewis

The Grimsay Press

,

2011

Paperback

, ISBN: 9781845300883




Road From the Isles

(£10.00)

D D C Pochin Mould

Oliver & Boyd

,

1950

Hardback




A Topographical Dictionary of Scotland Volume II

(£12.00)

Samuel Lewis

The Grimsay Press

,

2011

Paperback

, ISBN: 9781845300890




Roll of Eminent Burgessesof Dundee 1513-1886

(£50.00)

Order of the Provost etc

,

1887

Hardback




Albanich: A History of the Galloway Rifle Volunteers

(£20.00)

Ian Devlin

G.C. Book Publishers

,

1996

Hardback

, ISBN: 1872350070

Comments: Number 360 of first 500. Signed.




Rural Eaglesham

(£10.00)

Christina Robertson Brown

Privately Published

,

1966

Hardback




Ayrshire Village Sketches and Poems

(£7.00)

David Mackie

Dunlop & Drennan

,

1896

Hardback




Scots Plays of the Seventies

(£18.00)

Bill Findlay (ed.)

Scottish Cultural Press

,

2001

Paperback

, ISBN: 9781840170283




Ayrshire: Its History and Historic Families Volume 1

(£19.00)

William Robertson

The Grimsay Press

,

2005

Paperback

, ISBN: 1845300254

Comments: Reprint of 1908 edition.




Scottish Men of Letters in the Eighteenth Century

(£15.00)

Henry Grey Graham

Adam and Charles Black

,

1901

Hardback




Castles and Historic Homes of the Border

(£10.00)

Alexander Eddington

The Grimsay Press

,

2012

Paperback

, ISBN: 9781845300999




Scottish Painting 1620 - 1908

(£10.00)

James L. Caw

Kingsmead Reprints

,

1975

Hardback

, ISBN: 0901571717




David Keir

(£7.00)

The Third Statistical Account of Scotland: Edinburgh

Collins

,

1966

Hardback




Scottish Rivers

(£10.00)

Thomas Dick Lauder

Edmonston and Douglas

,

1874

Hardback




Dear Grieve: Letters to Hugh MacDiarmid

(£20.00)

John Manson (ed.)

Kennedy & Boyd

,

2012

Paperback

, ISBN: 9781849210782

Comments: More or less new.




Ships For A Nations: John Brown & Co. Clydebank 1847-1971

(£12.00)

Ian Johnston

West Dunbartsonshire Libraries & Museums

,

2000

Paperback

, ISBN: 9780953773619




Elshieshields: The Story of a Scottish Tower 1245-2018

(£15.00)

Ann Shukman

Ann Shukman

,

2018

Paperback

, ISBN: 9781527219298

Comments: Brand new book.




Ships For All Nations: John Brown & Co. Clydebank 1847-1971

(£30.00)

Ian Johnston

Seaforth Publishing

,

2015

Hardback

, ISBN: 9781848322677




Fonn: Music and a Sense of Place in Gaelic Family Song Tradition

(£15.00)

The Campbell Family

Acair

,

2011

Hardback

, ISBN: 9780861523535




Sidelights on Highland History

(£25.00)

William MacKay

Hardback




Glasgow Girls: Women in Art & Design 1880-1920

(£15.00)

Jude Burkhauser

Canongate

,

1990

Paperback

, ISBN: 0862413322x




Stirling Observer 150 Years On

(£10.00)

Bob McCutcheon

Stirling Observer

,

1992

Paperback

, ISBN: 0951173618




Historic Glasgow: the archaeological implications of development

(£8.00)

Sylvia J. Stevenson & Elizabeth P.D. Torrie

Scottish Burgh Survey

,

1990

Paperback




Suas gu Deas: Two Hebrideans Walking from the Butt to Barra Head

(£10.00)

Angus Peter Campbell & Cailean MacLean

The Islands Book Trust

,

2009

Hardback

, ISBN: 9780956076434




Historic Haunts of Scotland

(£8.00)

Alexander MacLehose

Alexander MacLehose

,

1936

Hardback




Tayside Songs and other Verses

(£15.00)

Robert Ford

Alexander Gardner

,

1895

Hardback




Historical and Traditional Tales in Prose and Verse Connected with South of Scotland

(£15.00)

John Nicholson

The Grimsay Press

,

2011

Paperback

, ISBN: 9781845300913




The Complaynt of Scotlande (Part Two)

(£15.00)

James A.H. Murray

Llanerch Publishers

,

1998

Paperback

, ISBN: 1861430582

Comments: Facsimile reprint of 1872 book.




History of the Burgh of Dumfries

(£18.00)

William McDowall

T.C. Farries

,

1986

Hardback

, ISBN: 0948278013

Comments: 4th revise edition.




The Dialects of the Southern Counties of Scotland

(£10.00)

James A H Murray

The Grimsay Press

,

2010

Paperback

, ISBN: 9781845300876




History of the Counties of Ayr and Wigton: Volume 1, Kyle

(£10.00)

James Paterson

The Grimsay Press

,

2003

Paperback

, ISBN: 9780902664111

Comments: Reprint of 1863 edition. Very good but signs of water damage on top edge.




The Highland Bagpipe and its Music

(£10.00)

Roderick D. Cannon

Birlinn

,

2008

Paperback

, ISBN: 9781841586663

Comments: Ex-lib with first page torn out. I think the date is correct.




Industries of Stirling and District

(£10.00)

Stirling Council Library

,

1998

Hardback

, ISBN: 1870542371

Comments: Reprint of 1909 book.




The History of the Working Classes in Scotland

(£15.00)

Thomas Johnston

Unity Publishing

,

1946

Hardback




Kintail Scrapbook

(£10.00)

Brenda G Macrow

Oliver & Boyd

,

1948

Hardback




The Kingdom of MacBrayne

(£8.00)

Nick S Robins & Donald E Meek

Birlinn

,

2006

Hardback

, ISBN: 9781841585000




Kintyre Country Life

(£8.00)

Angus Martin

Birlinn

,

2005

Paperback

, ISBN: 9781841584126




The Lairds of Glenlyon

(£25.00)

Duncan Campbell

Clunie Press

,

1984

Hardback




Kintyre: The Hidden Past

(£10.00)

Angus Martin

The Grimsay Press

,

2014

Paperback

, ISBN: 9781845301507




The Minute Book of the Faculty of Avocates Minute BookVol. 4 1783-1798

(£40.00)

Angus Stewart & David Parratt

The Stair Society

,

2008

Hardback

, ISBN: 9781872517209




Ladies First - A History of the Queen Margaret Union of the University of Glasgow

(£10.00)

Gary R. Brown (ed.)

The Grimsay Press

,

2010

Paperback

, ISBN: 9781845300616




The Minutes of the Justices of the Peace for Lanarkshire 1707-1723

(£12.00)

Charles A. Malcolm

Edinburgh University Press

,

1931

Hardback




Leith-Built Ships on War Service

(£12.00)

Henry Robb

Hardback




The Regality of Kirriemuir

(£35.00)

Alan Reid

John Grant

,

1909

Hardback




Let's Visit Kintyre

(£5.00)

Freddy Gillies

Ardminish Press

,

2003

Paperback

, ISBN: 9780954280444




The Scottish Home

(£10.00)

Annette Carruthers (ed.)

National Museums of Scotland

,

1996

Hardback

, ISBN: 9780948636721




Marchmont and the Humes of Polwarth

(£8.50)

One of Their Descendants

The Grimsay Press

,

2004

Paperback

, ISBN: 9780902664845

Comments: Reprint of 1894 book.




The Society of Writers to His Majesty's Signet

(£10.00)

Edinburgh University Press

,

1936

Hardback




Memorabilia Domestica: Parish Life in the North of Scotland

(£10.00)

Donald Sage

Albyn Press

,

1975

Hardback

, ISBN: 0284985724




The Statistical Account of Scotland vol 13 Angus

(£15.00)

Sir John Sinclair (ed.)

EP Publishing

,

1976

Hardback

, ISBN: 0715810138




Mitchison's Ghosts

(£8.50)

Moira Burgess

humming earth

,

2008

Paperback

, ISBN: 9781846220197




The Viking Isle

(£16.00)

Freddy Gillies

Ardminish Press

,

2002

Paperback

, ISBN: 9790954280405




Old and New World Highland Bagpiping

(£8.00)

John G. Gibson

Birlinn

,

2002

Paperback

, ISBN: 9781841583341

Comments: Brand new book.




Thomas Muir of Huntershill

(£10.00)

Gerard Carruthers & Don Martin (eds.)

humming earth

,

2016

Paperback

, ISBN: 9781846220517




Old Faces, Old Places & Old Stories of Stirling

(£10.00)

William Drysdale

Eneas MacKay

,

1898

Hardback




Transactions of the Highland and Agricultural Society of Scotland vol. XLII

(£10.00)

William Blackwood and Sons

,

1930

Hardback

Comments: 5th Series. Vol XLII including index to vols 36 - 42




Portrait of a Parish

(£20.00)

Duncan Fraser

Standard Press Montrose

,

1979

Hardback

, ISBN: 0900871350




West Highland Steamers

(£10.00)

C.L.D. Duckworth & G.E. Langmuir

Richard Tilling

,

1935

Hardback




Quiet Waters: Essays on Some Streams in Scotland

(£20.00)

H.W.H.

J. and R. Parlane

,

1884

Hardback



---
The History of Newcastle Upon Tyne

(£20.00)

Henry Bourne

Frank Graham

,

1980

Hardback

, ISBN: 0859831361

Comments: Facsimile reprint of 1736 edition.




The Territorial Army 1907-1940

(£20.00)

Peter Dennis

Royal Historical Society

,

1987

Hardback

, ISBN: 0861932080

Comments: Studies in History 51




The Irish Country House - A Social History

(£20.00)

Peter Somerville-Large

Sinclair Stevenson

,

1995

Hardback

, ISBN: 9781856192378




The Year-Book of Social Progress for 1913-14

(£20.00)

Thomas Nelson

,

Hardback




The Lost Tommies

(£15.00)

Ross Coulthart

William Collins

,

2016

Hardback

, ISBN: 9780008103316




Winchester in the Early Middle Ages

(£15.00)

Martin Biddle (ed.)

Oxford University Press

,

1976

Hardback

, ISBN: 0198131690




The Story of the Royal Dublin Society

(£8.00)

Terence de Vere White

The Kerryman Ltd.

,

1955

Hardback



---
A Pedlar's Pack of Ballads and Songs

(£10.00)

W.H. Logan

Hardback




Letters of Aldous Huxley

(£18.00)

Grover Smith (ed.)

Chatto & Windus

,

1969

Hardback




Amusing Prose Chapbooks

(£20.00)

Hamilton, Adams

,

1889

Paperback




Notre-Dame de Paris (two vols.)

(£20.00)

Victor Hugo

Sampson Low et al.

,

Hardback

Comments: No. 206 and 223 0f 775 copies. Illust Bieler et al. Trans. Alger




Is There a Sphygmomanometerist In the House

(£3.00)

Frank Livingstone Sinclair

Scottish Cultural Press

,

1996

Paperback

, ISBN: 9781898218159

Comments: "Comic verse for teachers, anglers and everyone else."




The Mystery of Edwin Drood

(£20.00)

Charles Dickens & Margaret Cardwell

Oxford University Press

,

1972

Hardback



---
Building Over the Centuries: A History of McLaughlin & Harvey

(£16.00)

Frederick Gilbert Watson

Nicholson & Bass

,

2010

Hardback

, ISBN: 9781905989508




Hunting in the Olden Days

(£30.00)

William Scarth Dixon

Constable & Company

,

1912

Hardback




Colonial Houses of South Africa

(£20.00)

Graham Viney

Struik-Winchester

,

1987

Hardback

, ISBN: 9780947430054




Seydabraevid

(£80.00)

Hardback

Comments: Faroese Sheep Letter. Large size (folio?). Introduction in English. Parallel old Norse, Faroese and English. Please ask if you want further attempts at details. Don't just turn up, we probably won't be able to find it!




Cross-Channel and Coastal Paddle Steamers

(£25.00)

Frank Burtt

Richard Tilling

,

1934

Hardback




Stirring Tales of Colonial Adventure

(£8.00)

Skipp Borlase

Frederick Warne

,

1894

Hardback




French Cathedrals

(£8.00)

Elizabeth Robins-Pennell

The Century Co.

,

1909

Hardback




The Memoirs of George M. Kahrl

(£15.00)

Rosemary O. Joyce (ed.)

Hardback




Gesammelte Schriften (2 volumes)

(£50.00)

Emil Lask

J.C.B. Mohr

,

1923

Hardback



---
---